Cottage Home Plans...
A Craftsman Classic!
The cottage home plans featured here showcase a modern day American Craftsman Style classic. An extremely popular plan, numerous versions of this striking design are popping up all over the United States!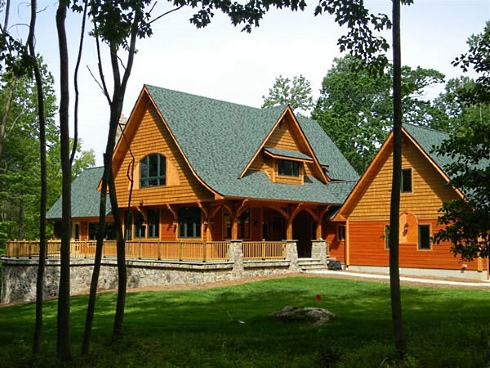 And little wonder!  This cozy wood clapboard, shingle and stone cottage design, known as Maple Forest, is as aesthetically pleasing as it is functional.  Designed by Michaela Mahady of SALA Architects in Minneapolis, Minnesota, the home building plans are available from Architectural House Plans.  According to the company, "Maple Forest is the most popular plan in our portfolio -- by far!"
The photo at top, as well as the two images that follow, are of the original design -- complete with an elevated wraparound deck faced with river rock.  Beautifully handcrafted garage doors (bottom) are made to simulate the doors found on vintage carriage houses.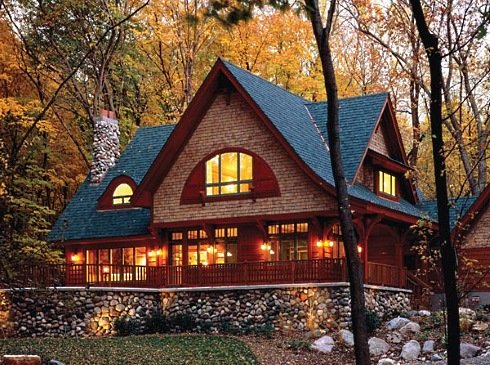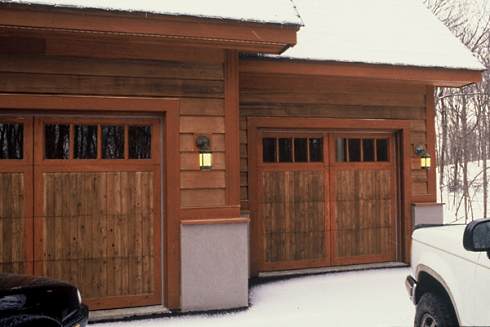 Since the original cottage home plans for Maple Forest were created in 1994, a small number of modifications have been made to the plans.  In addition, two new versions of this plan are currently available.  Each was created  in response to numerous requests from clients or customers for a plan that was more affordable to build, or a plan that included a bedroom and full bath on the main level.
Pictured below is the front entry to the cottage, followed by an elevation of the same area.  This particular design uses a different type of stone -- albeit still very attractive -- around the decking, rather than the river rock used in the original design, as shown at the top of this page.  Also note how the stone work extends upward to form pedestals that provide a base for the wooden posts supporting the curved porch roof.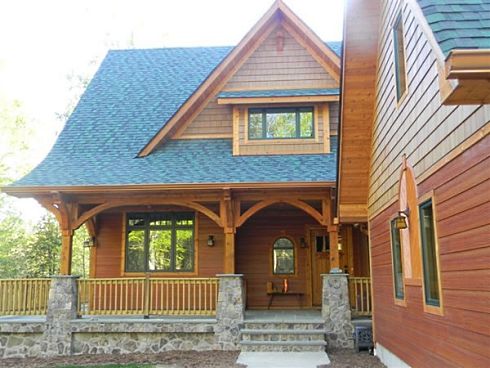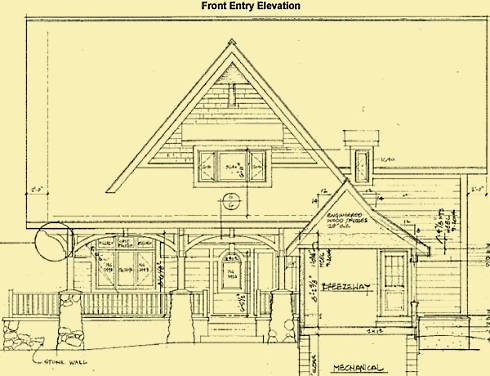 Pictured below is another perspective of the identical cottage shown in the photo above. Directly beneath it is an elevation of the garage and entry.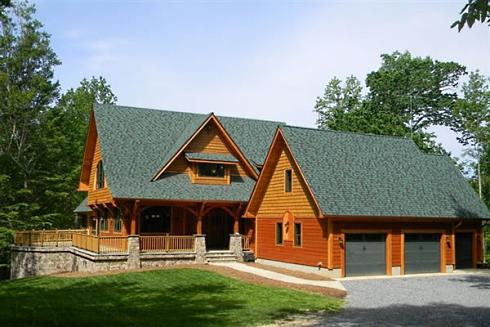 The stunning full length perspective in the photo that follows is of the original cottage home plan.  Just below it is an elevation of the side depicted in the photograph.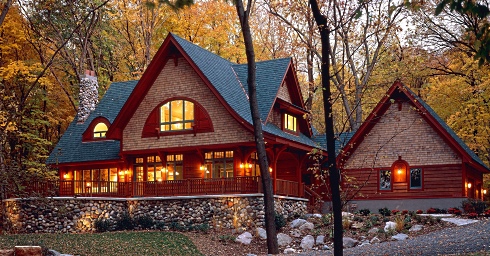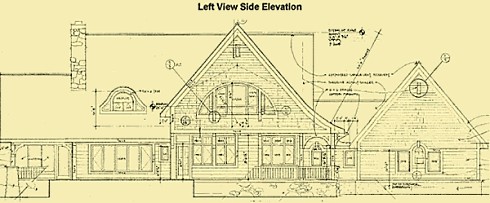 Cottage Home Plan Footprint
Level 1:
The open and airy floor plan flows seamlessly from one area to another on the 1,518 square foot main level.  Nine foot high ceilings add to the feeling of openness, as do the screen porch and large deck areas that expand the interior living space to the out-of-doors.
Occupying the main level is a sprawling kitchen with a cozy breakfast nook, a great room with a stone fireplace, a dining area, a library/den, laundry room, and a half bath.  Leading to the attached 3 car garage is a 9 by 11 foot breezeway.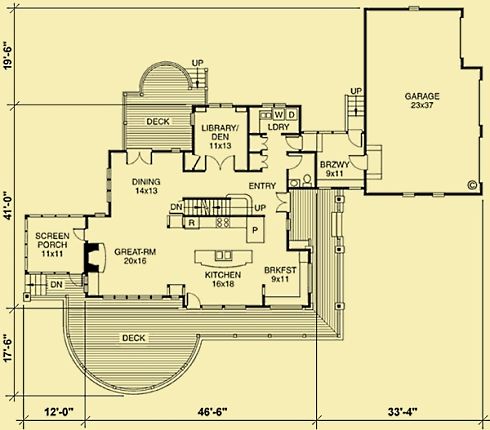 Main Level

Level 2:
Occupying the 1,222 square foot upper level are three bedrooms -- each with its own full bath and walk-in closet.  The master bedroom features an 11 foot vaulted ceiling and two large walk-in closets.  Included in the master bath are dual sinks, a large soaking tub, and a large shower.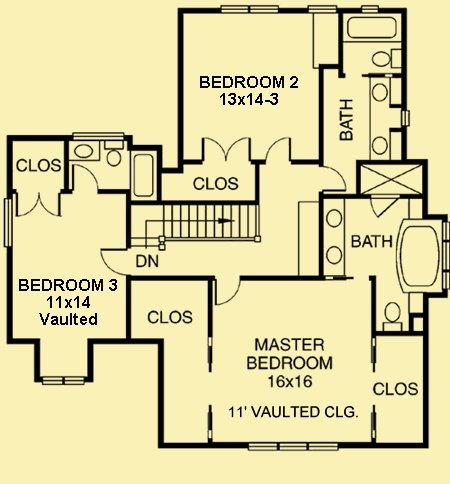 Upper Level

Basement Level:
The basement level adds another 1,598 square feet to this cottage home plan and can be finished off to include a large media room, an exercise or play room, guest room, full bath, and plenty of additional storage space.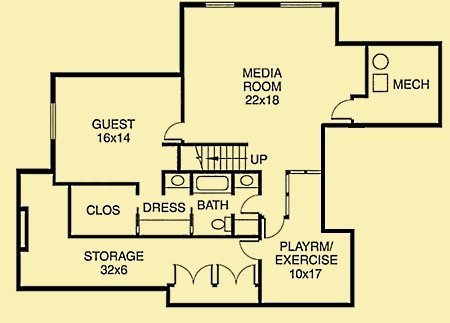 Basement Level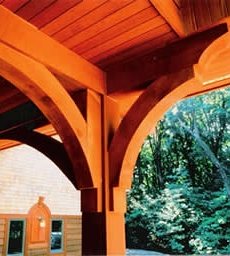 The close-up images at right and below show the attention to detail employed in the design of this classic Craftsman cottage.  Note the handcrafted wooden brackets in each of the photos, as well as the beautiful stone work pictured at bottom.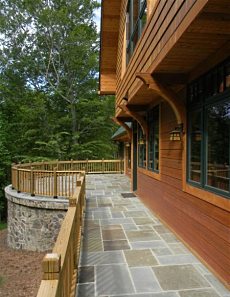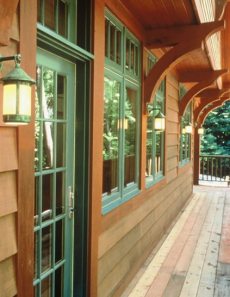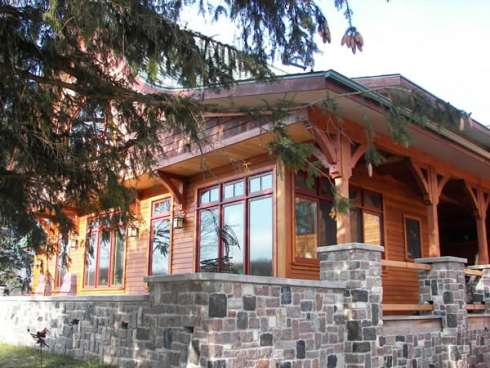 Following are two more versions of Maple Forest cottage.  Though the plans were modified from the original -- particularly the downsized cottage pictured directly below -- each of the cottages maintains its architectural integrity, consistent with the original cottage home plans!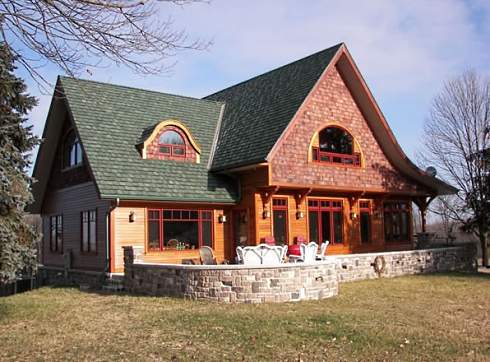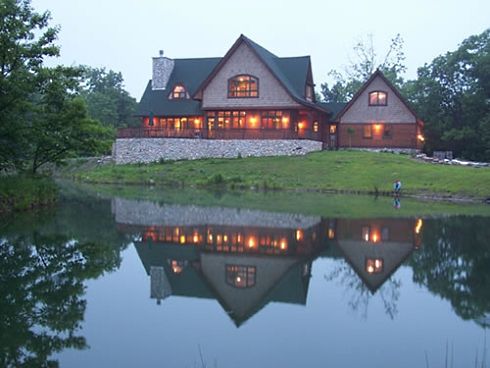 The interior of this classic Craftsman cottage shows the same level of detailing and craftsmanship employed on the exterior.  Please click here to view an exciting array of interior photos from this amazing cottage!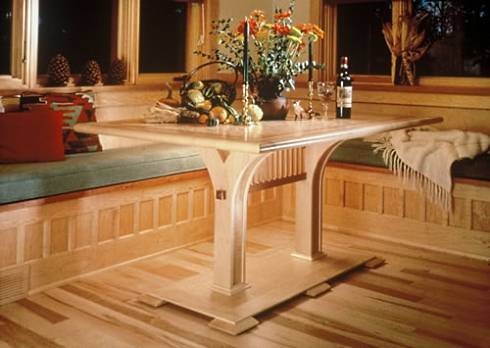 Architect and author Michaela Mahady's Welcoming Home: Creating a House that Says Hello is an essential guide to creating dwellings that truly make us feel at home.  In addition to this extraordinary cottage design by her, it features other exciting designs from Mahady's firm, SALA Architects -- complete with floor plans.  Click here for more information about this beautifully illustrated volume.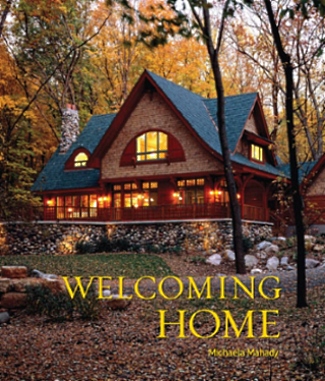 According to Architectural House Plans, a provider of complete working drawings for building dream homes, "Maple Forest Cottage plans have been our best-seller every year since we opened for business in 2003! . . . It is the quintessential 'storybook house in the forest,' with unique lines and handsome craftsman wood detailing."  Click here to order plans.

Please check back often or subscribe to our RSS feed, as we frequently add new cottage plans to our site.
YOU MAY ALSO LIKE:

Hobbit House Plans -
Storybook Sanctuaries!


More Craftsman Cottage Home Plans -
Carefully Crafted!