Barn Home Designs...
Endearing & Enduring!
The barn home designs featured here blend historic looks with modern living.  Whether a 21st century interpretation of this beloved building type, or an older structure repurposed for human habitation, these inspiring examples expand upon -- both in appearance and function -- the traditional definition of a barn!
The pastoral scene below  features a charming gable roof design with twin cupolas.  Clad with board and batten siding, the exterior walls are pierced by multi-pane windows.  A shed roof shelters the full length front porch.  Note the bracketed overhang above the tall gable end windows.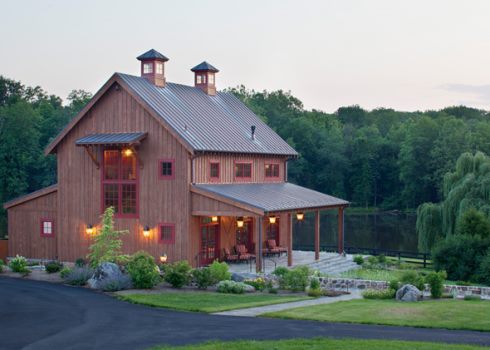 Barn Home Design above by Rill Architects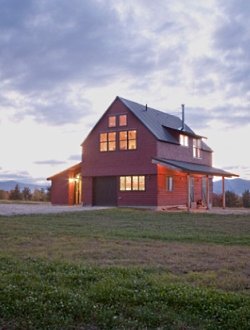 New . . . . .
Echoing the spirit of 19th century New England farm buildings, a contemporary barn home by Kaplan Thompson Architects offers a commanding view of western Maine's White Mountains from its pastureland perch.  The center-piece of a hilltop hobby farm, its clapboard  and  shingle  design provides shelter for both humans and horses.
Photo at right by Trent Bell

Expansive windows beneath a gable roof with shed dormers flood the upper level living area with natural light.  The central block is flanked by lean-tos -- one of which (right side, below) offers its equine occupants a refuge from cold winter winds and hot summer sun.  A fully enclosed lean-to (left side, below) serves as the entrance to the upper level living quarters.

Photo Credit (above): Trent Bell for Maine Home
More traditional n appearance, the example below features a prominent "widow's peak" or hay hood -- a pointed extension of the roof ridge over the gable end.  From Frank G. Neely Design Associates, this relatively new and richly detailed dwelling evokes the nostalgic charm and romance of an earlier time.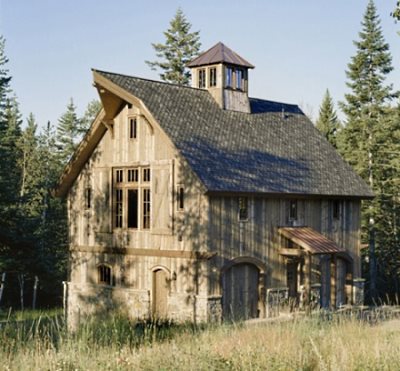 . . . and  RENEWED Barn Home Designs
The replacement of the family farm and home with large commercial enterprises has rendered the family barn virtually obsolete in America.  As a result, much of our former supply has been left to the elements and the passage of time. 
Fortunately in recent years, some individuals have begun to recognize the potential of old barns as renewable resources for human habitation -- a trend that continues to grow.
Photo at right by Barry Halkin
Built in the late 19th century, the Pennsylvania barn pictured below was transformed into a stunning guest house by Archer & Buchanan Architecture.  Collaborating with the architects, Michael Shannon Designs renovated the interior.  It features an open floor plan with a soaring great room (above right).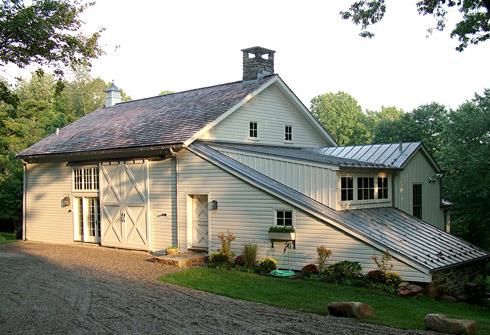 Relocated in Connecticut, a 19th century Canadian barn was given new life as a 15 room dwelling.  Scores of mult-pane windows were installed to flood the formerly dark and cavernous interior with natural light.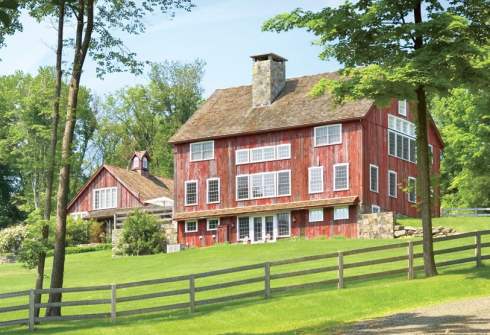 Photo Credit (above): Scott Frances
Designer Russell Groves selected modern furnishings for the open, airy rooms.  Note how they both complement and contrast with the rustic posts and beams original to the structure.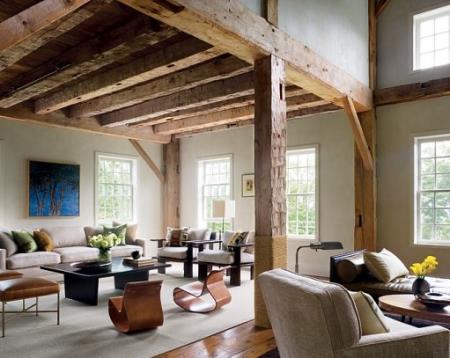 Photo Credit (above): Scott Frances
New York architect David Minch converted this 1876 barn to a primary residence for his wife and himself -- as well as their respective businesses.  In an effort to maintain the Hudson Valley structure's architectural and historic integrity, the architect preserved as much as possible while simultaneously making it energy efficient.

Pole Barn Homes
Pole barns, or pole buildings, have come a long way since their humble beginnings in the 1930s.  A less expensive alternative to traditional timber framing, post-frame construction was widely employed to build storage sheds and other utilitarian structures on farms. 

Modern refinements in technology and construction techniques have broadened its application to include barn homes.  The handsome example below is from Holmes Lumber.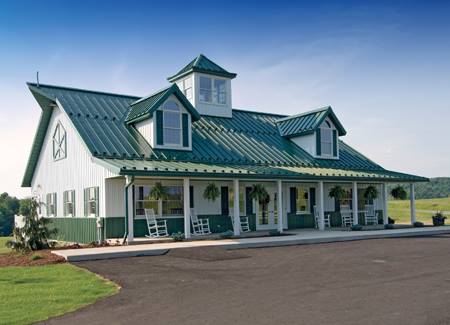 See more barn home designs at our sister site,
Standout-Farmhouse-Designs.com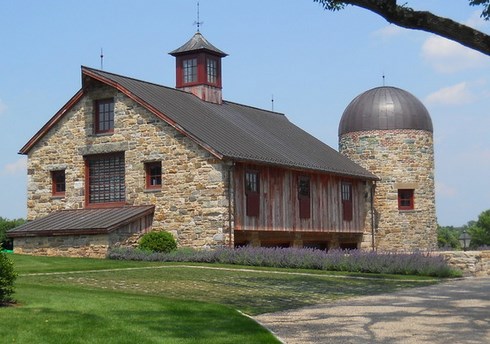 Please check back often or subscribe to our RSS feed, as we frequently add new farm and barn home designs to our site.