Log Cabin Style Mobile Homes...
Well-Rounded Walls on Wheels!
The log cabin style mobile homes featured here showcase the work of two of the most popular designers and manufacturers of portable log cabins in the United States today. Handcrafted quality and meticulous attention to detail are just two of the factors that make these two log mobile home companies stand out above the rest!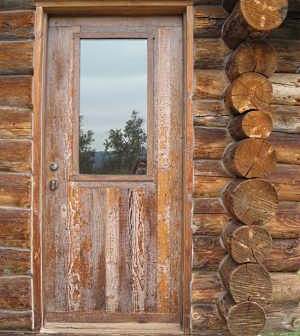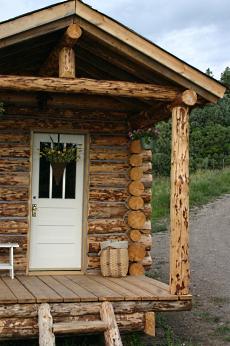 Pictured  at  left and below is "The Ski Hut" by Jalopy Cabins, based in South-
western Colorado, USA.    Crafted from hand peeled logs salvaged from a local ski  area,  this  small log cabin is 10 by 16 feet in size,  plus a 6 foot extension for a covered front porch.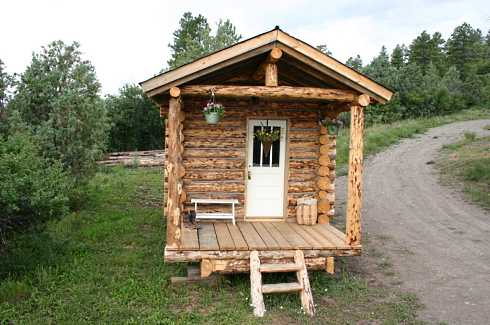 Consistent with Jalopy Cabins' commitment to building each cabin using a minimum of 90 percent reclaimed materials, all roofing for "The Ski Hut" -- including the rafters -- was salvaged from an older home. In addition, the front door was salvaged and repainted.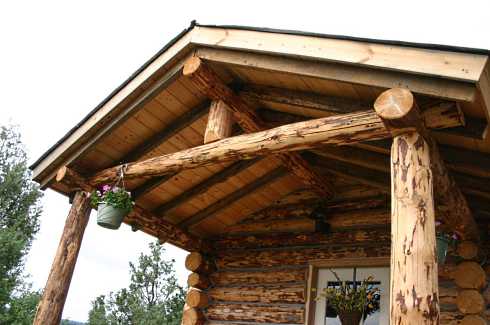 Pictured below is a close-up view of the round, hand peeled logs.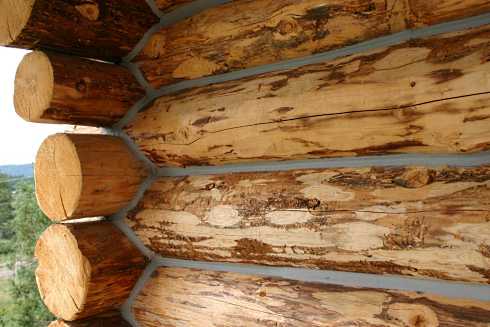 The images that follow portray the cozy interior. Note the handcrafted de-
tailing of the open ceiling,  as  well as the precision with which the logs fit together in the corners.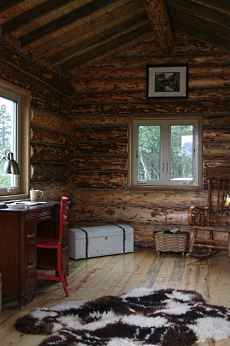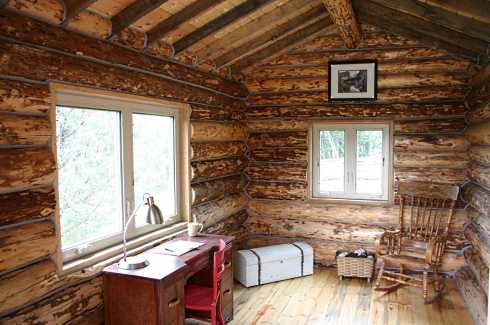 See More Designs from Jalopy Cabins!
A Log Cabin Style Mobile Home . . .
from Montana Mobile Cabins
Pictured  below  is  one  of the log cabin style mobile homes from Montana Mobile Cabins, based in Whitehall, Montana, USA.      Built entirely on their site, the log mobile home is then transported to the client's site.  Each de-
sign  from  Montana Mobile Cabins is made with hand peeled logs, full front porches, rustic wood ceilings and exposed finished wood floors. Handcraft-
ing and finishing are of the highest quality.
The log cabin mobile home that follows is located in Marion, Montana.  It is 18 by 24 feet in size and features a kitchen,  bath,  and  "great room,"  as well as an upper level loft area.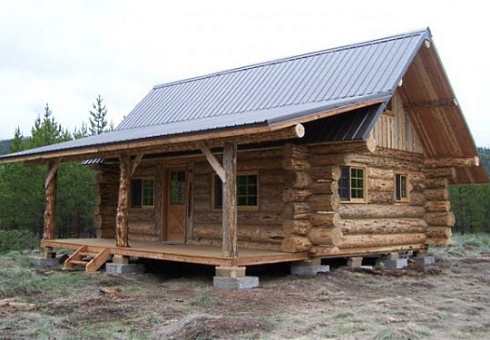 Pictured below is a view of the entry area . . . . . just inside the front door.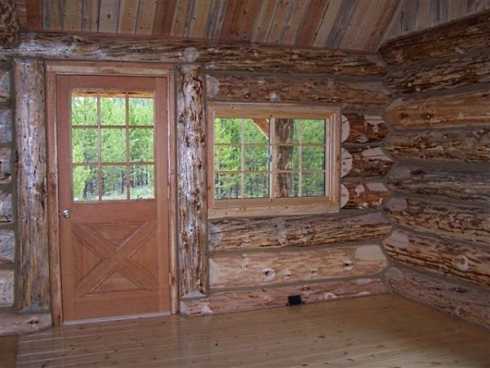 The image that follows is of the kitchen. Note the handcrafted detailing on the cabinet doors.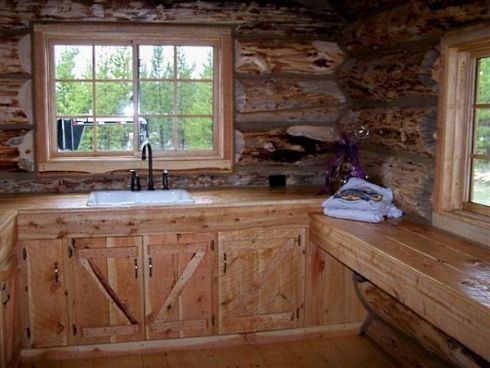 Two views of the full bath are pictured below.   Once again,  the cabi-
netry, i.e., vanity, features handcrafted detailing.
And finally, the two images that follow show the upper loft area, as well as the ladder that leads to it.    Note how the detailing on the door,  pictured directly below, echos that of the handcrafted cabinetry.
See More Designs from Montana Mobile Cabins!


Please check back often or subscribe to our RSS feed,  as  we  fre-
quently add new images of mobile log cabins to our site.
YOU MAY ALSO LIKE:





More Log Cabin Style Mobile Homes -
In Our Sights!

Back to Log Cabin Mobile Homes
Back to Standout Cabin Designs Home Page


Didn't find what you were looking for?
Use this search feature to find it.
LIKE THIS PAGE?
Copyright © 2010-2018 standout-cabin-designs.com
All Rights Reserved.
STANDOUT CABIN DESIGNS
Minneapolis, Minnesota USA