Country Cottage Building Plans...
for Fun & Relaxation!
The country cottage building plans featured here showcase Coastal Living's Cottage of the Year. Not one, not two, but THREE inviting porches are just a few of the numerous amenities included in this charming country cottage design!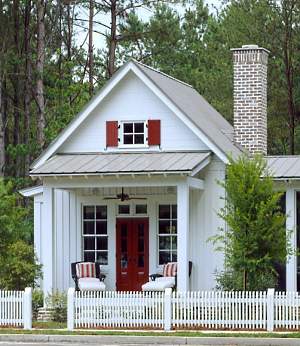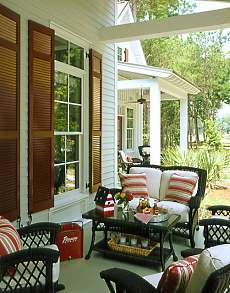 Created  by  Moser  Design  Group  for Coastal  Living,   the  cottage building plans for this gable and hip roof design are  available  through  Coastal  Living House  Plans.     Pictured at left is the largest  of  the three porches.     Fur-
nished  with  plenty of cozy cushioned seating, it almost beckons you to relax and while away the summer hours with family and friends!
Though it evokes Southern country charm and hospitality,  this lovely cot-
tage is larger than it may initially appear. Hidden from view behind its front facade,  pictured  below,  the  2,612  square  foot interior includes a large screened porch and an attached guest house.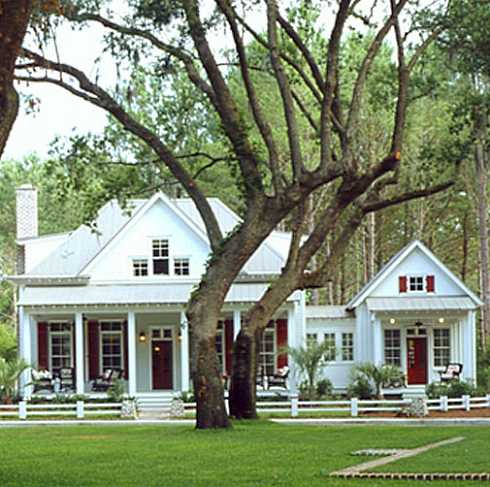 Cottage Building Plans
Level 1
The main floor of this two level design encompasses 2,028 square feet.  It features a huge open family room and dining area approximately 32 feet by 23 feet just inside the front door. Anchoring one end of the room is a large fireplace flanked by tall multi-pane windows.   At  the  rear  of  this  grand space is the kitchen, which features a center island.
Directly behind the kitchen is a spacious screened porch with another large fireplace along the far wall.    A door to the left of the fireplace opens to a 12  by  15 foot guest cottage with a soaring vaulted ceiling.     A  stairway leads to an upper level loft area that overlooks the space below.
One  of  the  many unique features of this cottage building plan is its com-
pletely separate master bedroom wing,  accessed through a small vestibule on the side of the main house.    It features two large walk-in closets that lead to the master bath with dual sinks,  a spa/Whirlpool,  and  a  separate shower.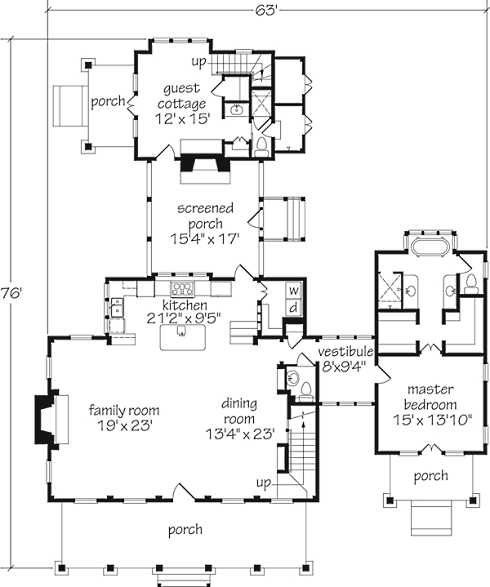 Main Level


The master bedroom even boasts its own front porch,  pictured below,  re-
plete with comfortable outdoor seating and a small table for morning tea or coffee!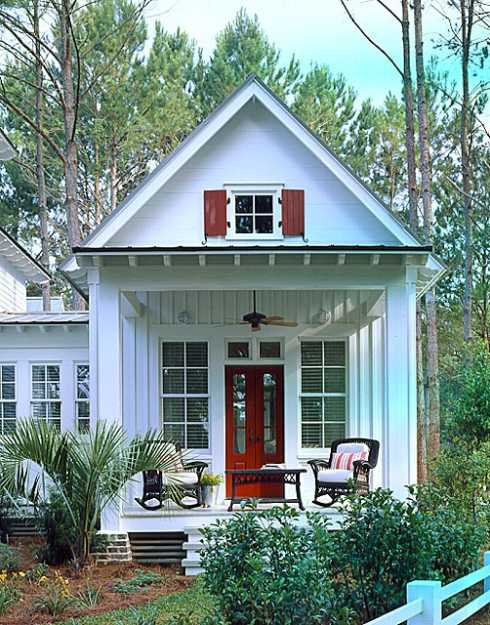 Level 2
The upper level is punctuated by shed roof dormers and includes two bed-
rooms and a full bath in 584 square feet of living area. The larger bedroom features a walk-in closet. The bathroom includes dual sinks and access to two storage areas.
Upper Level


Pictured below is a side view of the cottage. It shows the large screened porch behind the main block of the home, as well as the guest cottage at the rear . . . which also features its own front porch!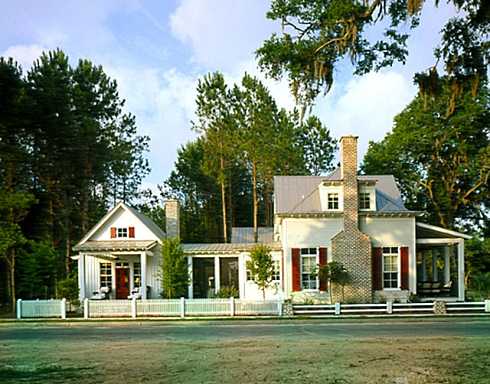 The illustration that follows is an elevation of the rear of the home and de-
picts the guest cottage, as well as the master bedroom wing on the left.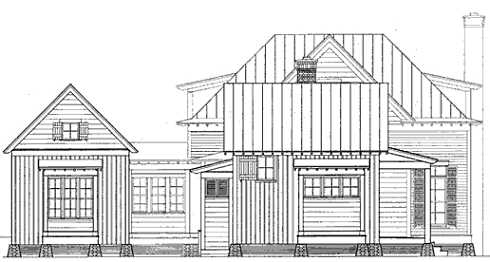 Another perspective view of the cottage shows all three porches.     The soaring brick chimney is one of two in the original plan.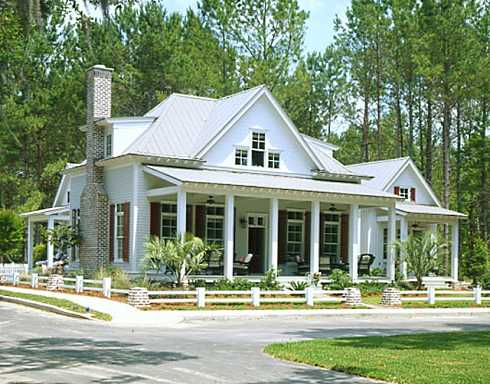 The Southern hospitality and charm displayed on the exterior of this lovely cottage extends indoors,  as well.     Please click here to view an exciting collection of photos showing the finely crafted interior!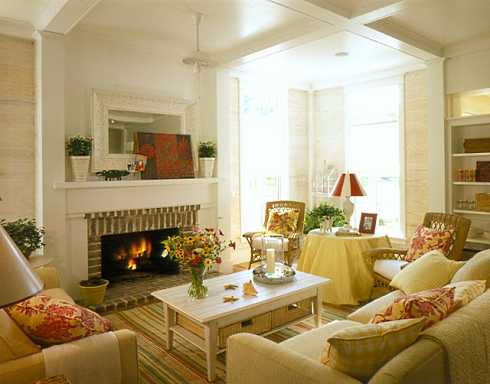 Please check back often or subscribe to our RSS feed, as  we  fre-
quently add new sources of cottage building plans to our site.
YOU MAY ALSO LIKE:





More Country Cottage Building Plans -
Cozy, Comfortable & Commodious!





More Cottage Plans With Porches...
A PROFUSION of Porches!

Back to Standout Cabin Designs Home Page


Didn't find what you were looking for?
Use this search feature to find it.
LIKE THIS PAGE?
Copyright © 2010-2018 standout-cabin-designs.com
All Rights Reserved.
STANDOUT CABIN DESIGNS
Minneapolis, Minnesota USA