Small Log Home Plans...
American Classics!
Small log home plans draw from the past with classic American styling.  Wood and stone come together in playful arrangements of porches, gables, and dormers.  Though modest in scale, they are rich in detail!

With just 1,362 square feet of living area, the charmer pictured below packs a lot of punch.  Clad with log siding, the home features a full width covered front porch supported by a large log beam and posts resting on stone clad pedestals.  Gable roof dormers with paired casement windows punctuate the roof line above.

View of front
A perspective view of the back shows another covered porch over the rear entrance.  Note the window-lined "bump-out" along the side, as well as the decorative log detailing in the gable end above.

Perspective view of back
A perspective view of the front from the left shows the above-referenced detailing, as well as a partial glimpse of the back porch, from another angle.

Perspective view of facade from left front
A close-up of the front porch depicts the beautiful stonework -- with varying shapes, sizes and colors -- around the pedestals.  Note how the stone coloration both complements and contrasts with the log posts and balustrade.

Close-up view of front porch
Another porch close-up reveals an intimate seating area with wicker chairs and upholstered cushions . . . great for conversation and relaxation.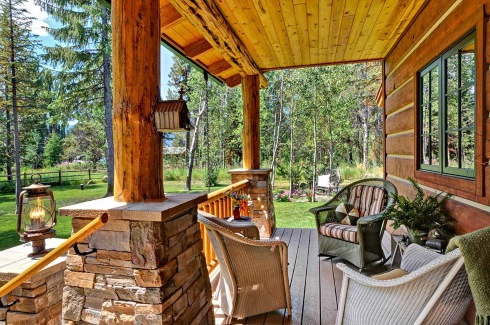 Closer close-up view of front porch
Small Log Home Plans
Main Level:

The main level floor plan features an open kitchen, dining, and soaring living area anchored by a fireplace.  A pantry and laundry room -- with access to the back porch -- line up behind the kitchen.  Beyond the living room, a master suite with full bath completes this level.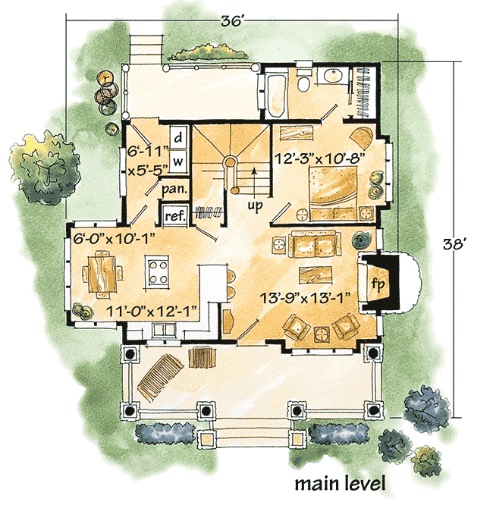 Level 1:  833 square feet
The 1-1/2 story living room features a floor-to-ceiling stone fireplace surround flanked by multi-pane windows.  A deep wood cornice defines the main level ceiling height, lending a sense of intimacy to the room.  Note the display area in the dormer above.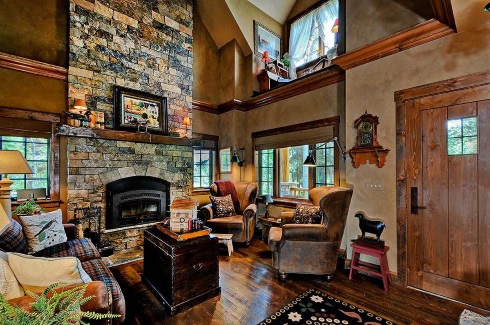 Soaring stone fireplace surround
The kitchen features richly finished hardwood cabinetry, granite counter tops and a large center island with a butcher block top.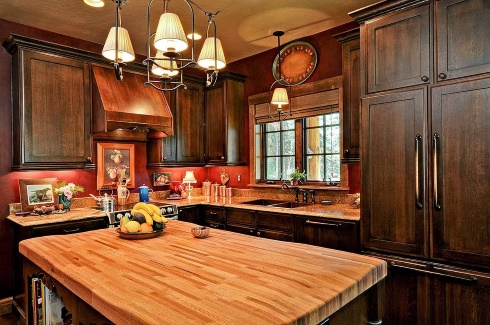 Kitchen island with butcher block top
The dining nook flows seamlessly from the kitchen.  Bands of windows on 3 sides provide plenty of natural light, as well as panoramic woodland views.

Cozy dining nook
Upper Level:

The small log home plan's upper level is occupied by a bedroom, full bath, and a study . . . which can easily be converted to a guest room or even a 3rd bedroom.  The stair landing overlooks the living room below.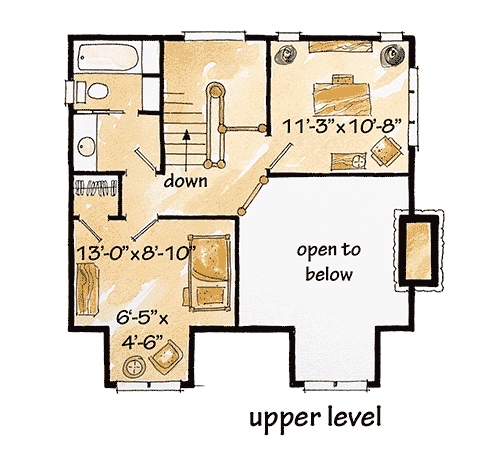 Level 2:  529 square feet
A view of one of the bedrooms decked out with country style decor . . . including a colorful patchwork quilt.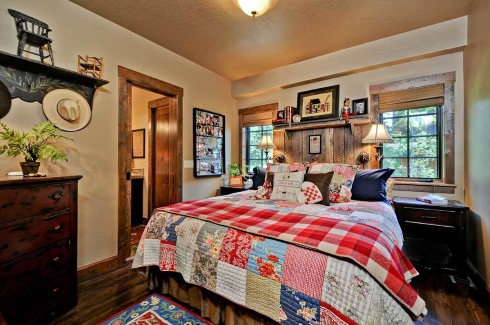 Country comforts

More about this Small Log Home Plan
Need More Space?
If more space is needed, an expanded version of this plan is also available.  The design below has an additional 463 square feet, for a total living area of 1,825 square feet on 2 levels. 

Though pictured with board and batten cladding, the exterior walls can just as easily be covered with log siding.  Also, the front and back porches, as well as the dining nook "bump-out," sport hip roofs in lieu of shed roofs.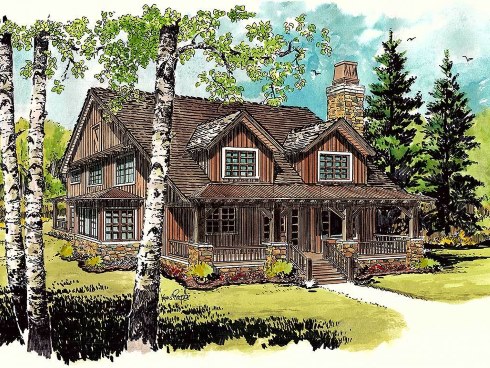 Perspective view of front
Though the layout of Level 1 is nearly identical to that of the previous example, the overall footprint is wider to accommodate larger room sizes.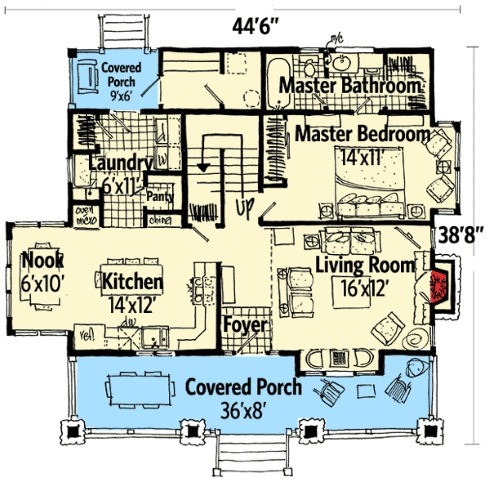 Level 1:  1,072 square feet
Similarly, the upper level floor plan resembles that of the prior example, but with wider rooms.  In addition, a small office space has been squeezed into the area between Bedroom #2 and the rearranged full bath.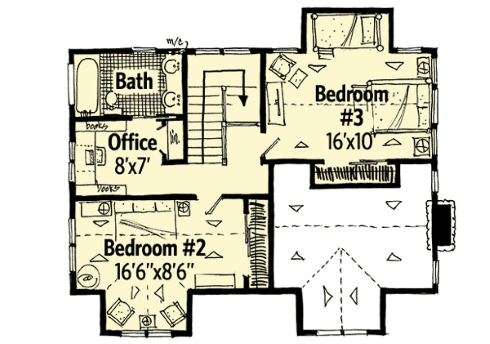 Level 2:  753 square feet

Please check back often or subscribe to our RSS feed, as we frequently add new small log home plans to our site.

Didn't find what you were looking for?
Use this search feature to find it.