The Small Stone Cottage . . . Enchanting Designs for Today!
The small stone cottage designs profiled here are of recent origin.  Enchanting "Old World" exteriors envelop open interiors designed for contemporary living.  With the best of both worlds, it's like having your cake and eating it, too!
The lily-laden facade of a small stone cottage in Vancouver, British Columbia, Canada simply beckons visitors to explore its lush gardens and warm interior.  Designed by The Airey Group, it features a cross gable roof with towering stone chimneys capped by chimney pots.  A beautiful bay window with a shed roof and exposed rafter tails punctuates the stone front.  Large Craftsman Style brackets support the upper gable's deep overhang.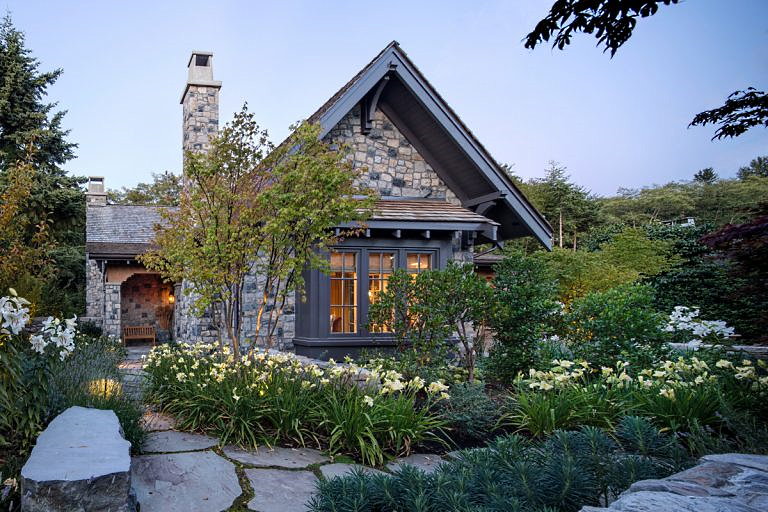 Elegant floor-to-ceiling French doors flank the fireplace in the living room.  Encompassing 2,000 square feet, the cottage contains cozy built-in seating areas and a gourmet kitchen.
A wrought iron gate, curved stone wall and winding footpath lead to this masterful creation!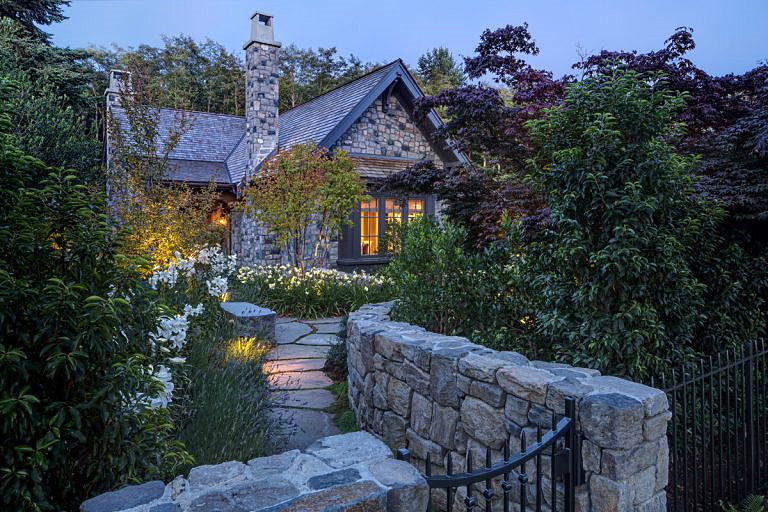 See more photos of this striking stone cottage!

Perched high in the Blue Ridge Mountains of western North Carolina, a small stone cottage commands a spectacular view.  The charming design was built by the aptly named Mountainworks, based in Cashiers, NC.
Along the facade, a sweeping gable end is punctuated by the entry door with a bracketed overhang.  This, in conjunction with a series of small divided-light and diamond pane windows, lend a storybook quality to the cottage.
Varying steeply pitched roof lines pierced by a tiny dormer and a large chimney add to the storybook look, as shown in the perspective view below.  A covered porch with fireplace provides a cozy gathering spot in which to take in the fresh mountain air, as well as the awesome scenery.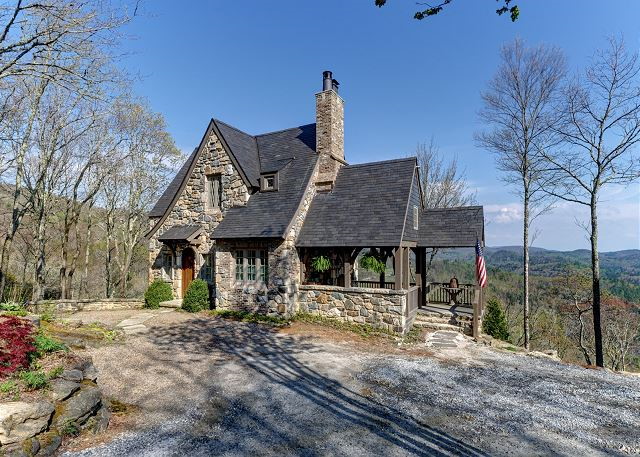 A massive fireplace provides the focal point in the open interior floor plan.  Note the rough-hewn ceiling beams.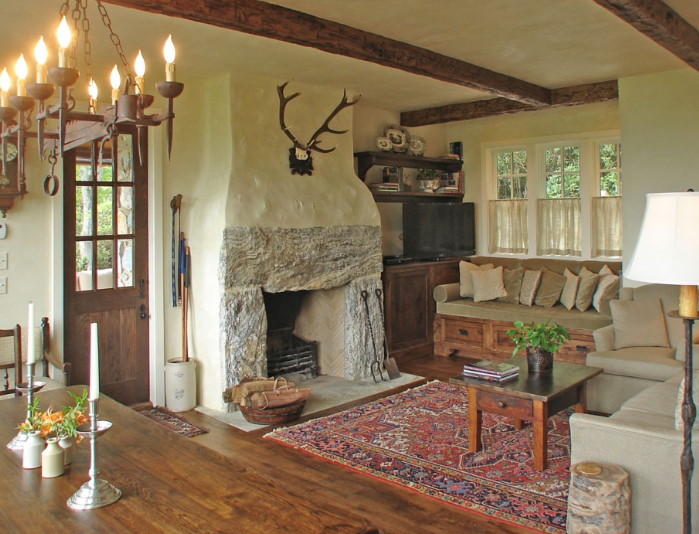 See more photos of this charming stone cottage!

Small Stone Cottage Style Pool House
Though the picturesque storybook cottage shown below could readily be built as a single family dwelling, this particular example functions as a pool house along Philadelphia's Main Line.  Designed by Peter Zimmerman Architects as an accessory building to an English-inspired estate, the transitional design blends "Old World" charm with contemporary architectural elements such as oversize windows in the tower . . . . .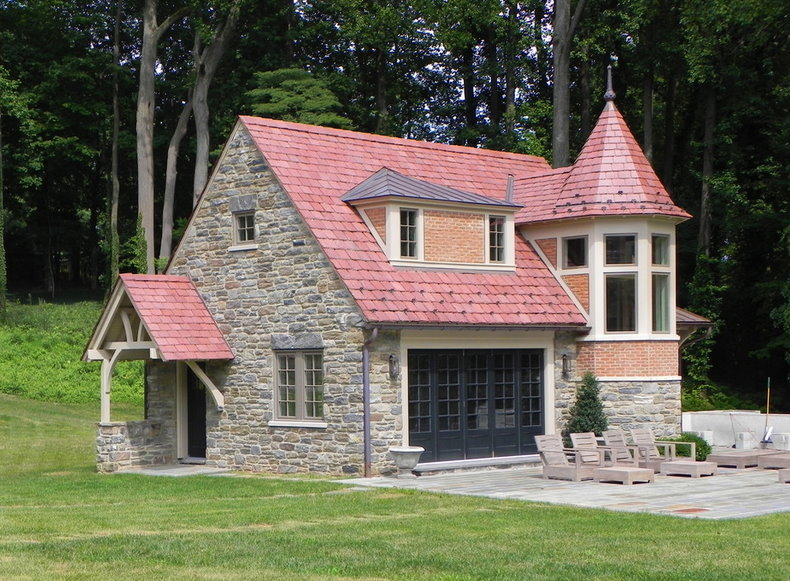 as well as a unique window arrangement that dominates the opposing wall directly across from the bank of French doors at poolside.  Note the contrasting brickwork in the tower and dormers.  Adding further interest to the polychromatic composition are red slate roofing tiles and a contrasting dark metal dormer roof overlooking the pool.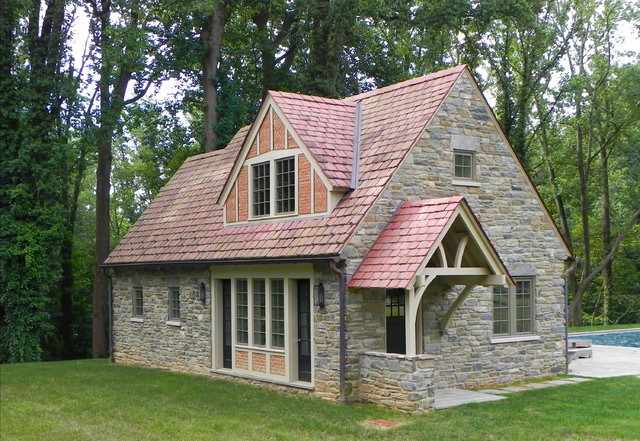 The covered entry is supported by decorative timberwork.  Divided-light windows feature large stone lintels above.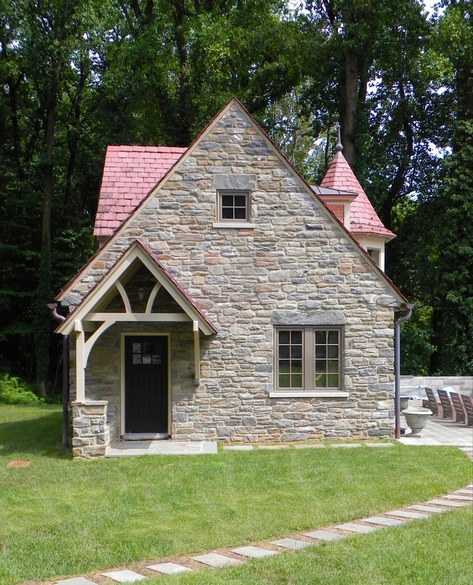 Photo Credit for 3 Images Above: John Toats, AIA principle in charge of design

See more photos of this storybook cottage design!

Please check back often or subscribe to our RSS feed, as we frequently add small stone cottage designs to our site.

YOU MAY ALSO LIKE:

MORE Small Stone Cottages - Truly Timeless!

Stone Cottage Design - Clearly Captivating!

Stone Cottage Plans - Compact to Capacious!
Didn't find what you were looking for?
Use this search feature to find it.