Small Stone Cottages...
Truly Timeless!
Small stone cottages nestled in nature have inspired many a painter, poet and writer throughout history.  From ancient cave dwellings to modern mountain retreats, stone has been used to shelter mankind for millennia.  Its inherent beauty and durability continue to enchant us!

The simple  --  albeit picturesque -- cottage below is a delightful example of this beloved building type.  A present-day incarnation in stone, it is modeled after Henry David Thoreau's cabin on Walden Pond.  The 10 x 15 foot timber frame was crafted by Bensonwood Homes, located in Walpole, New Hampshire.

Clad with stone on all four sides, the exterior design features a front facing gable. Tall windows with divided lights are deeply recessed into the stonework.  A brick chimney punctuates the slate covered roof at the rear gable end.  Adding to its charm, a flagstone pathway curves around the tiny 150 square foot cottage.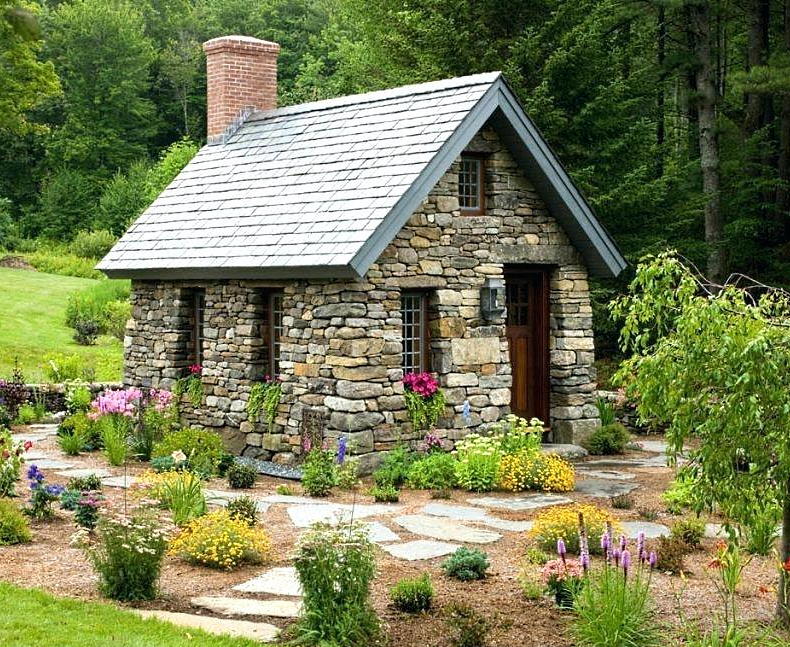 See Additional Images of Design Above
More Small Stone Cottages
Rustic Mountain Retreat
Perched high in the mountains of western North Carolina, this Blue Ridge Mountain Club Cottage (below) imparts a rustic look and feel while offering all the amenities of modern living.  The storybook design features a steeply pitched gable roof and massive stone chimney. 

A flared shed roof overhang stretches across the front facade, supported by curved wooden brackets on either end.  Tucked below, a flagstone patio and outdoor hearth provide an intimate space to relax and take in the pristine mountain air.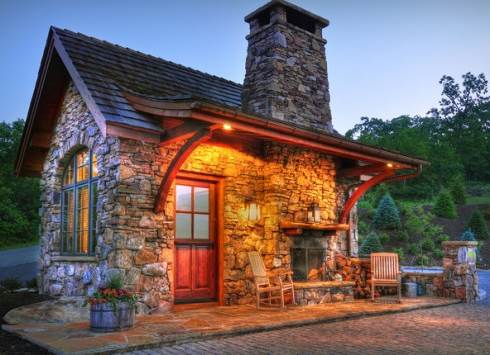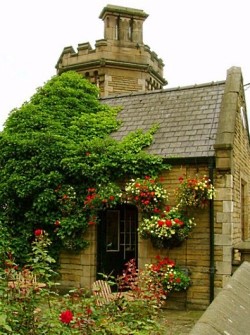 Enchanting English Cottage Style
After centuries of practice, the English and western Europeans have elevated cottage building to a veritable art form.
The charming Yorkshire cottage at right boasts a crenelated tower.  Its ivy-clad exterior features contrasting stone quoins to accentuate the corners.

Built in 1800 as a gardener's cottage, the "Gingerbread House" (below) is a thatch roofed, hexagonally-shaped vacation rental in South West England.  Located near the town of Ilminster in Somerset County, the small stone cottage features leaded glass windows with gothic pointed arches.  Deep roof overhangs rest on wood posts to shade the building perimeter.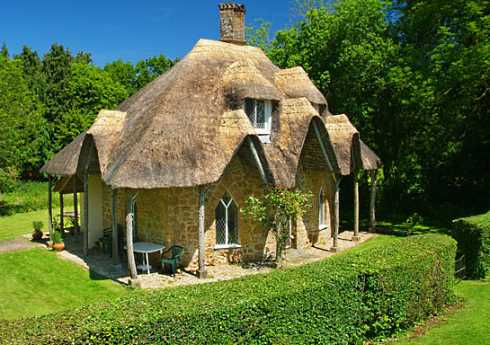 See MORE English Cottage Designs
Appearing to have popped from the pages of a Brothers Grimm fairy tale, an enchanting stone cottage nestles in a woodland setting in The Netherlands (below).  The romantic two story pile features projecting stonework at the corners, flanked by one story wings. 

A bay window with decorative casements adorns the facade.  Overhead, a soaring stone chimney punctuates the multilevel clipped gable roof.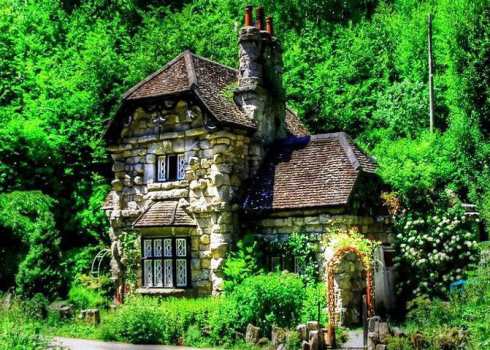 See MORE Storybook Cottage Designs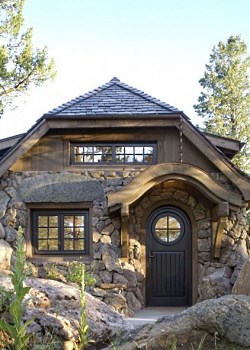 Hobbit House Style
Set into a hillside in Genesee, Colorado, a hobbit style cottage serves as a charming guest house (left).  Designed by TKP Architects, the 450 square foot retreat is crafted with massive stones. 
Divided light windows pierce the facade.  Large shed roof dormers (see below) on either side of the clipped gable roof further infuse the interior with natural light.  A bracketed overhang above the entry echos the arch of the door, which features a charming "hobbit hole" window.

A clearer perspective of the relationship between building and site can be seen in the image below.  Note how the cottage hugs the hillside as it steps down with the terrain.

An imaginative hobbit hut design (below) by Pierce + Frye Architects goes pool side on Lake Tahoe.  The front of the earth-sheltered structure is constructed of roughly rectangular stacked stone blocks.  Small round windows framed with wedge-shaped stones, or "voussoirs," flank the hobbit style entry.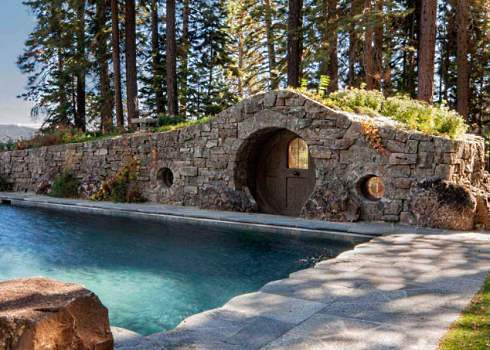 Photo Credit (above): David O. Marlow

Please check back often or subscribe to our RSS feed, as we frequently add new small stone cottages to our site.
YOU MAY ALSO LIKE:

The Small Stone Cottage - Enchanting Designs for Today!


MORE Small Stone Cottages -
Clearly Captivating!

Stone Cottage Designs -
Picture Perfect!

Stone Cottage Architecture -
Downright Irresistible!

More Stone Cottage Architecture -
"StoryStone" Style!

The Stone Cottage...From Scottish
Highlands to the Hills of Tuscany!

Stone Cottage Plans -
Compact to Capacious!
Didn't find what you were looking for?
Use this search feature to find it.