Cottage Style Houses...
Building the Present from Our Past!
The cottage style houses featured here range from charming 1920s period revival  designs -- one of which is part of a fabulous "Old World" estate owned until recently by actor Nicolas Cage . . . . . to enchanting present day examples that rival the inherent charm, ambiance and Storybook Style of their predecessors!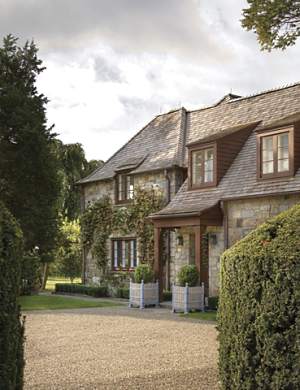 Above Design by Ferguson & Shamamian Architects
Varying, steeply pitched roof lines penetrated by a profusion of dormers and chimneys -- popular with period revival styles of the 1920s and '30s -- are making an appearance again. 

Natural building materials such as stone, brick and wood shingles are also making a comeback, as is high quality craftsmanship during the construction process. 

Adding further to the charm and authentic look of new cottage style houses are multi-pane windows with wooden shutters -- typically used in earlier cottage style homes, as well.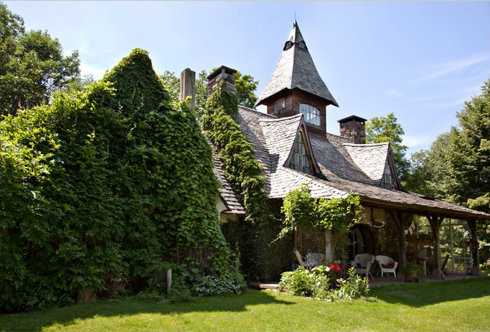 The enchanting 1920s European-inspired cottage style home pictured below is located in Cincinnati, Ohio, USA.  It features a cross-gable roof plan with an unusual front facing dual gable design, wherein one of the "gables" looks more like a through-the-cornice dormer, such as the one pictured on the far left with a contrasting hip roof. 

Clad with a variety of materials including stone, stucco and wood, this cottage style house also features roof and wall lines that sweep downward and outward on each end of the home.  Small multi-pane windows -- some with  wooden shutters -- and a Tudor-Gothic entry door add to the cottage charm and appeal of this Storybook Style design.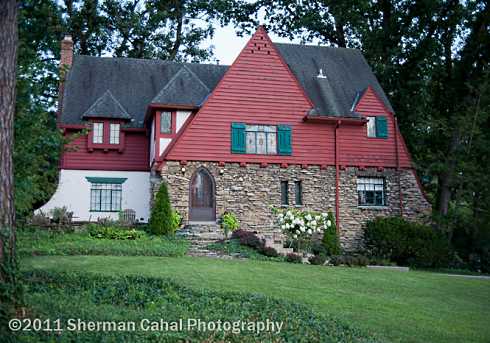 See More Storybook Cottage Designs!
More English country manor than cottage -- due to its size -- the 1930s stone design that follows is, nevertheless, endowed with numerous cottage style characteristics.  Located outside of Philadelphia, Pennsylvania, USA, this lovely Tudor Revival home features numerous gables and dormers, as well as a large chimney that extends upward along the outer wall of the front facade -- a common architectural design element of English period revival styles in North America at that time.
See More Tudor Revival English Cottage Designs!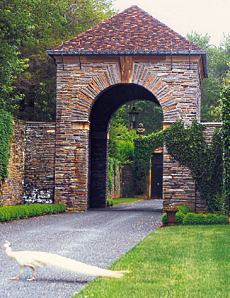 Pictured at right is the stone entrance pavilion to "Gray Craig," a magnificent 1924 estate in Middletown, Rhode Island, USA.  Though the large estate was partially subdivided in 2004, the grand English manor home around which the estate was originally created was owned by actor Nicolas Cage from 2007 to 2011.
The charming cottage style house that follows was initially part of the Gray Craig estate.  A blend of English and French styles, it features a hip roof with a bevy of through-the-cornice dormers -- some of which have arched tops.  Multi-pane windows, as well as French Provincial shutters on the lower level, add to the quaint look and feel of this delightful structure!
Unlike the design pictured above, the classic French-inspired Atlanta area home that follows is rather formal in appearance.  Though it's highly symmetrical facade and formality are not typical of cottage style architecture, we included it here because it simply has a "cottage look and feel" to it. 

Designed by James Means (1904-1979), this striking home was built in the 1930s.  Despite a formal garden in the foreground, "Country French" shutters and window boxes -- in conjunction with an ivy-draped facade -- contribute to the cottage look and feel of this amazing abode!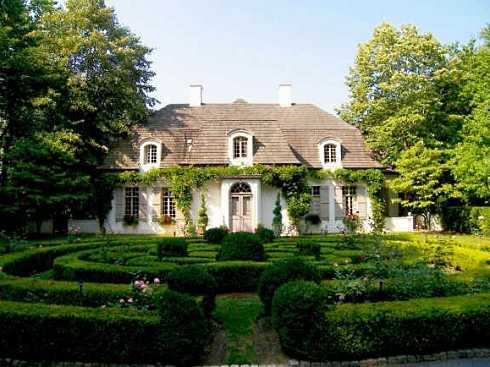 The enchanting cottage style house pictured below is located in the prestigious Hyde Park area of Cincinnati, Ohio.  Asymmetrical in design, this picturesque confection blends Tudor and Gothic Revival styles. 

It features a hip roof with two front facing gables -- one of which includes a distinctive diamond-paned oriel window and sweeping roof line.  Stone and stucco clad the front facade of this storybook home, as well as a massive stone chimney.
More Cottage Style Houses
The remaining cottage style houses featured here are of relatively recent origin.  Pictured below is a cozy country stone cottage by Simeral Construction, based in Lititz, Pennsylvania, USA.  Steeply pitched roof lines and shuttered, multi-pane windows add to the timeless charm of this lovely rural Pennsylvania farmhouse design.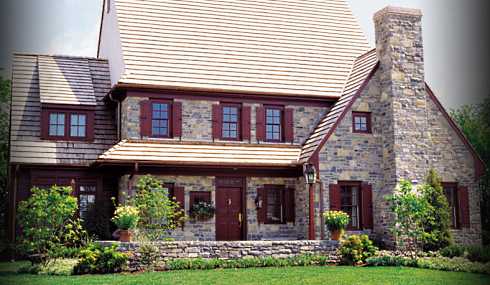 See Small Cottage Plans for Another Farmhouse Design!
The "Stone Bedford Village Cottage" that follows was designed by Brooks & Falotico Architects, based in New Canaan, Connecticut, USA.  The facade of this picturesque cottage features a one and a half story gable roof with a pair of one story, forward projecting "pavilions" crowned with hip roofs. 

A large multi-pane bay window adorns the front of each pavilion, while a trio of gabled dormers with arch topped windows project from the upper level roof.  A graceful arch also covers the slightly projecting front entrance just beneath the upper level dormers.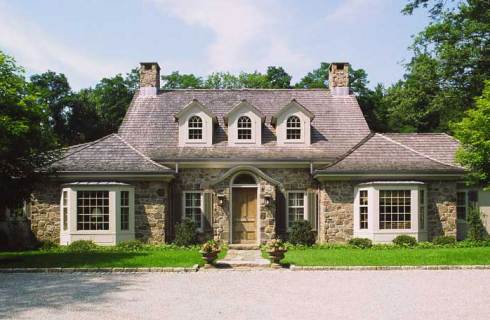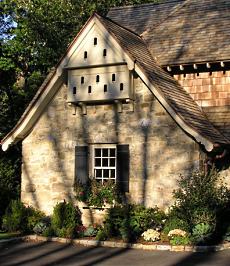 The striking English Cotswold-inspired design pictured at right and below is also by Brooks & Falotico Architects.  Stone and wood shingles clad the exterior of the cottage, which is punctuated by rows of tall multi-pane windows and French doors flanked by shutters on the first level.
On the upper story, rows of multi-pane double-hung windows peer out from under raised roof eaves with exposed rafter tails.  Piercing the rooftop is a series of stone chimneys crowned with decorative clay chimney pots.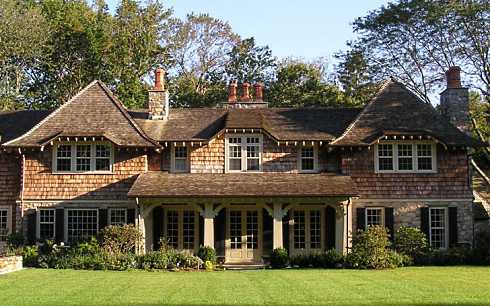 See Authentic English Cotswold Stone Cottages!
Though relatively large in size, the beautiful English-inspired stone cottage style house that follows has many of the characteristics of a "true" cottage, including a profusion of dormers, small casement windows with multiple panes, and oversize chimneys.  Built in the early 20th century, the home recently underwent a complete restoration by architect Sean O'Kane of Ridgefield, Connecticut, USA.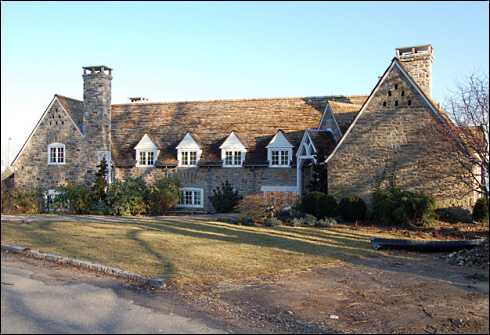 In addition to restoration work, Sean O'Kane also designs new cottage style houses.  Pictured below is a charming guest cottage he designed in conjunction with a large English style country house overlooking Long Island Sound.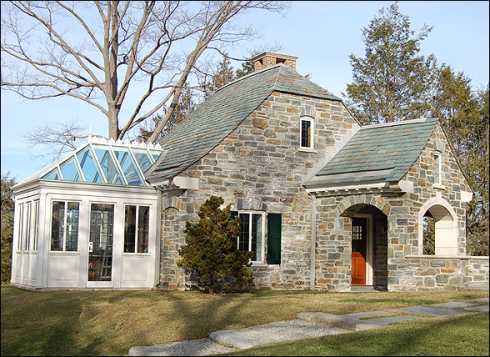 See More Charming Stone Cottage Designs!
Please check back often or subscribe to our RSS feed, as we frequently add new cottage style houses to our site.