Country Cottage Kitchens
for Country Style Cook'n!
The cottage kitchens featured here blend country cottage style decorating and decor with the latest in modern day appliances . . . . . . . perfect for getting back to basics and good old fashioned country home cooking -- just like grandma used to make -- only faster!


                                           Cottage Kitchen above by Erik Kramvik Design
The cottage pictured below, left, was created by Moser Design Group for Coastal Living House Plans.  As shown in the image below, right, as well as the two images that follow,  the kitchen features an open layout snack is-
land and a pantry menu desk  --  each of which is covered with a  butcher block top.    Modern stainless steel appliances are framed by simple, lightly stained cabinetry with recessed panels in the doors and drawers.    Period style hardware is used for the drawer pulls.
Built-in  open  shelving  is  also featured throughout this charming cottage kitchen design.     Finished in white enamel,  the shelving ties in beautifully with  the rows of tall -- albeit quaint -- multi-pane windows that flood the room with natural light.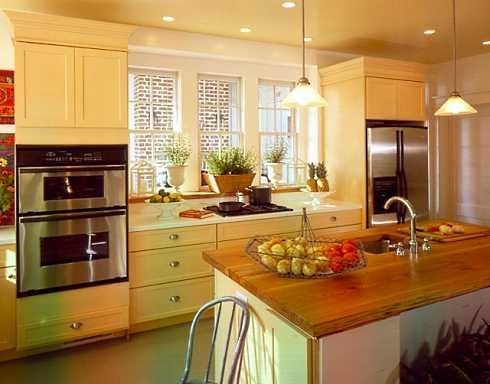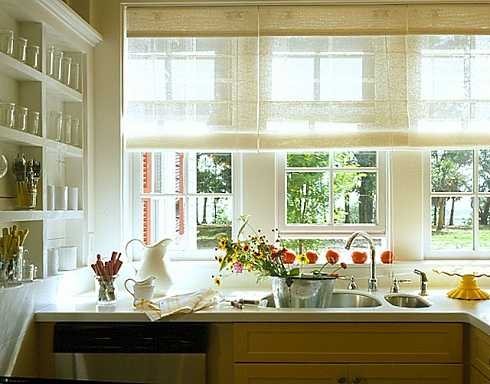 See More Interior Photos of this Charming Country Cottage!

See Floor Plans & Exterior Photos of this Country Cottage!



The  Craftsman Style cottage at right was   designed   by  Brian  Hanlen  of Brooks Design/Build, and the plans are currently  available from Architectural House Plans.     The kitchen, pictured below,   features  traditionally  styled cabinets with raised panel door fronts and granite counter tops. Once again, stainless steel appliances are built  in-
to  the  cabinetry.     A finely crafted
snack   island   rests  on  wide  plank flooring.  Country cottage furniture is used next to the island,  as well as in the adjacent dining area to the right.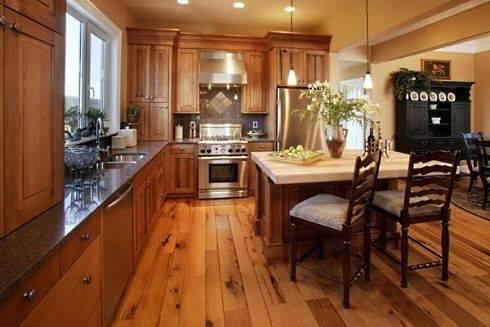 See More Interior Photos of this Charming Craftsman Cottage!

See Floor Plans & Exterior Photos of this Craftsman Cottage!

More Cottage Kitchens

Plans for the striking coastal cottage at  right  (Island Cottage) come from Southern Cottages.    Separating the kitchen from the living and dining  ar-
ea  (below)  is  an open snack island flanked  by floor to ceiling posts that echo the design and detailing of  the posts on the exterior porches.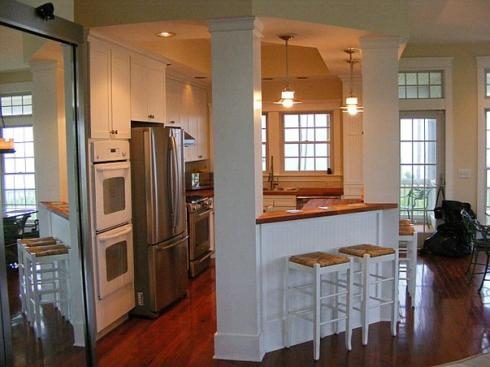 Simple white enameled cabinetry with recessed beadboard panels gives the kitchen a cottage look and feel.   Butcher block counter tops are as practi-
cal and functional as they are aesthetically pleasing in this cottage kitchen design.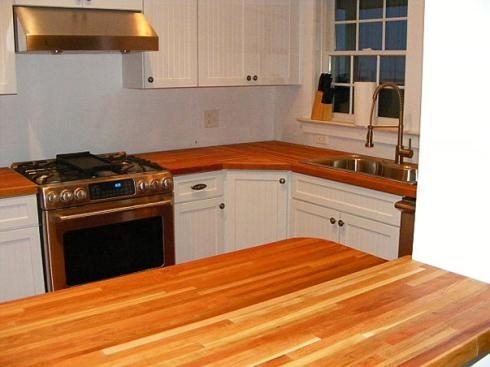 See More Interior Photos of this Striking Coastal Cottage!

See Floor Plans & Exterior Photos of this Coastal Cottage!



The  Deephaven,  pictured  at  right,
was  designed by Ron Brenner of Lar-
son Brenner Architects in  Stillwater, Minnesota, USA. Plans for this lovely cottage  design  are  available  from Simply Elegant Home Designs.
Once again, simple cabinetry with re-
cessed panels is used in the kitchen, pictured  below,  to give it a cottage look and feel.   The snack island fea-
tures   raised  cabinets   with   glass fronted doors on each end for added visual and architectural appeal!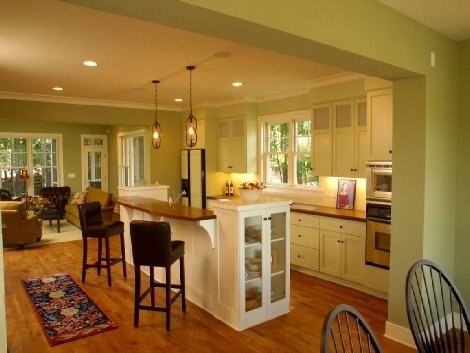 See More Interior & Exterior Photos,
as well as Floor Plans, for this Cozy Country Cottage!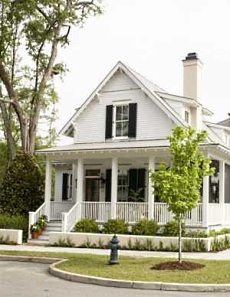 SugarBerry Cottage,  pictured at right, was  created  by  Moser Design Group
for Southern Living House Plans.    Its farmhouse  style  charm  and  country cottage decor give this design a near-
ly "picture perfect" impression of what you'd  imagine  in  a  country cottage kitchen! 

A simple arch with "bracketed" cabinetry over the cook top creates a stun-
ning focal point in this room.  The finely crafted millwork and cabinetry,  it-
self, lend distinction to this sunny,  light-filled space -- made even brighter by  the  white enameled finish and glossy white ceramic tiles lining the wall behind the stove top.  A center island encased in recessed beadboard pan-
els  and  covered with a butcher block counter top add to the cottage look and feel of this charming kitchen . . . . .
. . . as does the bracketed open shelving that flanks the tall window above the sink.     The only concessions to modern day styling in this kitchen are the stainless steel appliances.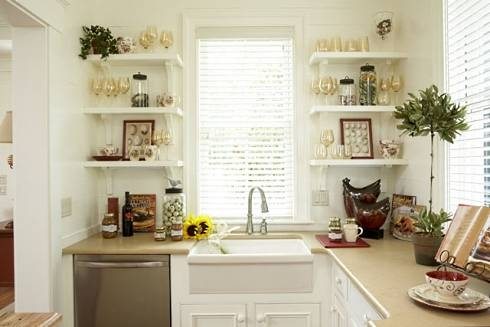 See More Interior Photos of this Charming Farmhouse Style Cottage!
See Floor Plans & Exterior Photos of this Farmhouse Style Cottage!
Farmhouse Furnishings & Fixtures

The Craftsman Style cottage with exterior  image  below,  right,  was  de-
signed by Michaela Mahady of SALA Architects, with offices in Minneapolis and Stillwater,  Minnesota,  USA.    Maple Forest's design and detailing are stunning on both the exterior and interior!
Pictured below,  left,  is a close-up view of the center island with pendant lighting above.     It features simple cabinetry with flat recessed panels on both door and drawer fronts and is finished in a striking dark green enamel.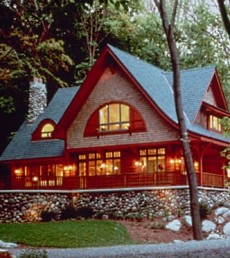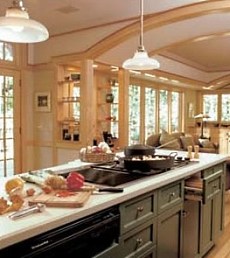 A wider view shows the cabinetry and appliances along the wall behind the island. Note how the refrigerator doors have been covered with panels that are designed and finished to match the other cabinetry.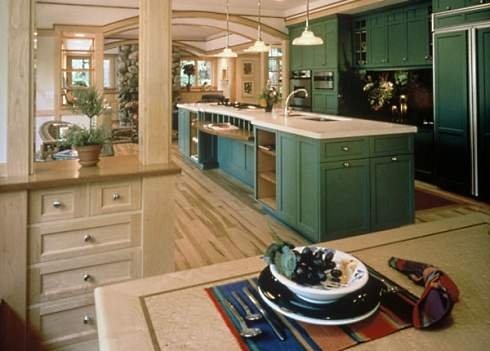 In  stark  contrast to the dark enameled finish is a lovely breakfast nook in the kitchen corner. It features built-in seating fronted with simple recessed panels and finished with a light stain.  Thick cushions placed on top ensure plenty of comfort.
Adjacent  to the seating area is a country cottage hutch  --  also  stained and finished to match the built-in seating area,  including the "walls of win-
dows" surrounding the breakfast nook.     Note how the upper doors of the hutch  are designed to echo the window detailing . . . . complete with little transoms above!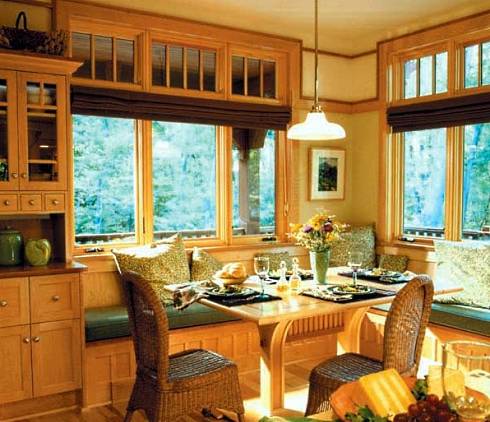 See More Interior Photos of this Stunning Craftsman Cottage!

See Floor Plans & Exterior Photos of this Craftsman Cottage!

Please check back often or subscribe to our RSS feed, as we fre-
quently add new images of cottage kitchens to our site.

YOU MAY ALSO LIKE:





Small Cottage Floor Plans
with Country Cottage Kitchens!

Back to Standout Cabin Designs Home Page


Didn't find what you were looking for?
Use this search feature to find it.
LIKE THIS PAGE?
Copyright © 2010-2018 standout-cabin-designs.com
All Rights Reserved.
STANDOUT CABIN DESIGNS
Minneapolis, Minnesota USA